Every journey starts somewhere but how we start and enjoy this journey from concept to completion is really important. Your kitchen won't just arrive as your dream kitchen because there are vital ingredients that must be discussed and decided upon in order to create your perfect kitchen.
Starting out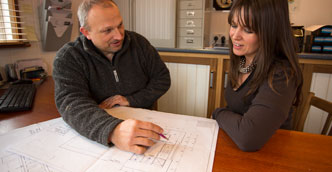 This is one of the most important stages of the journey. We talk in detail with you to find out as much as we can about what you need, the space you have, and the way you live in your kitchen. Is your kitchen a family area, are you passionate about cooking, what type of features would you like in your new living space. Do you live in a cottage or a period house, is your home old or new, full of character or minimalist? You may have images that you have collected or bits and pieces from magazines that inspire you. We can then evaluate all the information and through this relationship with you, we can then begin to design and bring to life the kitchen or furniture that is as individual as your own home.
Design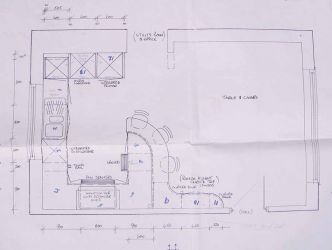 The design will aim to reflect the whole conversation that began at the "starting out" stage. It is not about linking modula units together and trying to achieve a bespoke finish. Modula units, flat packed or off the shelf is not what we do. Every design will be as unique as your home with each piece hand crafted to suit. Initial sketch and outline drawings are created and further discussion takes place with you, the client. Through this relationship it is really important for us both to be able to visualise the end product before any timber is cut. Once you are happy with the design, the craftsman begins on the first part of the commissioned works. This is to mark out full scale in our workshops the key pieces of furniture. This is an opportunity to make sure that details such as the height of ovens, microwaves and plate warmers are at a comfortable working height for you, the client. You may be 6' or 5 ' 1" and this needs to be reflected in your bespoke handcrafted kitchen.These are vital design tweaks that will make all the difference to ensure the enjoyment of your new space.
Creation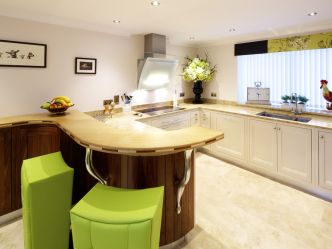 This stage generates excitement, particularly when you decide to visit the workshop and speak to the craftsmen creating your dream. The craftsmen are passionate about what they are involved in and love being a part of seeing a drawing come to life. This is another section of the journey that can really engage and stimulate you too. We love the opportunity of continuing and developing the relationship with you right through the creation process. Even at this point of the journey, tweaks and additions are possible as long as you journey with us. These same craftsmen will also be the ones who install your furniture. For us it is important that you are comfortable with the people working in your home and so welcoming someone to your door whom you already know and trust is as important to us as it is to you. This stage can take around 3-4 months depending upon the complexity of your individual requirements. We like to record the transformation from design, through raw materials, creation to completion. This photographic collage is a precious keepsake from a memorable journey. You will enjoy musing over it with friends whilst fine dining or enjoying a coffee and all within the comfort of your new living space, our jouney complete and yours just begun.